IoT Gateway
BH3
General-purpose industrial gateway box
based on the Raspberry Pi 3 Model B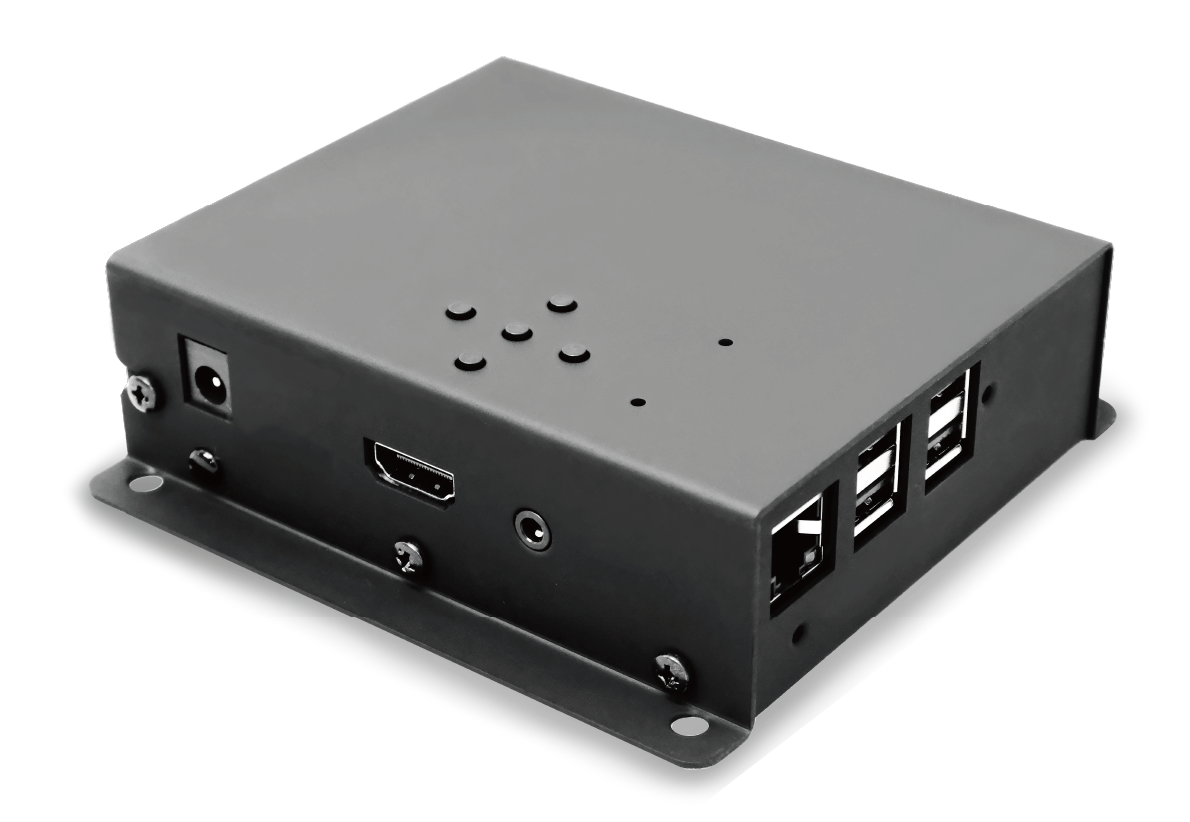 Power Supply
Enhancement
The BH3 comes with an internal regulator that provides a stable 5V power supply through its own power supply
circuit or the Raspberry Pi pin header. Although there
has previously been concerned over the power supply for Raspberry Pi, this enhancement allows it to operate with more stability. The high-internal resistance MicroUSB
port is not for power supply.
Watch Dog Timer
(WDT) Enabled
This makes it very unlikely that the system will hang on
you while you are out in the field.
Simple UPS Function
A simple UPS function with an electric double-layer
capacitor allows the device to operate without power for approximately 30 seconds. If a power loss is detected, a
safe shutdown process can be performed during this time, which significantly reduces damage to the Micro SD card.
Noise protection
The GPIO port of the Raspberry Pi generates mV noise at a level in the hundreds which can cause it to malfunction if it
is touched. Through the use of a metal case and a
grounding process, we have managed to reduce the noise level to a mere few tens of mV.
Compliance & Safety
Comparison
with the Bare Metal Raspberry Pi 3B
Items
Raspberry Pi 3 Model B
BH3
1*
Protects SD card content from
momentary power failures
No
10 times or more without issue
2*
Power supply
microUSB
Pin header
3*
RTC
No
Yes
4*
Device power surges and static
electricity resistance
No
Yes
5*
Physical pin noise level
Hundreds of mV
Tens of mV
6*
WDT
Disabled
Enabled
7*
Temperature guarantee
No
Yes
*1 The BH3 uses a shutdown process to avoid momentary power failures and thereby protect the SD card.
*2 Power is supplied by converting the 7.5V/3A adapter to 5V/3A on the internal circuit board.It automatically switches to a simple UPS with an electric double-layer capacitor if a power failure occurs.
*3 The RTC is backed-up by a battery.
*4 See the Technical Note for test results.
*5 The GPIO port of the Raspberry Pi generates hundreds of mV of noise which can cause malfunctions.
The noise level has been reduced by using a metal case and performing grounding.
*6 This makes it very unlikely that the system will hang on you while you are out in the field.
*7 The BH3 is designed to prevent thermal runaway and has a temperature range of 0 to 40°C.
PRODUCT
BH3
Based CPU board
Raspberry Pi 3 Model B
OS
Raspberry Pi OS(Downloadable BH setup tool provided)
CPU
1.2GHz / 64-bit quad-core ARMv8 CPU
GPU
400MHz/Broadcom VideoCore IV
RAM
LPDDR2 SDRAM1GB
RTC
Yes
Video Out
HDMI(1.3・1.4)
Audio Out
3.5mm Audio Jack / Full-HDMI / USB Port
USB port
USB2.0×4
I/O Connectors
GPIO 40Pins (3 GPIO ports are reserved for the power supply circuit and RTC.
5 ports for general-purpose switches can be selected to be used or unused.
Network
10/100Mbps Ethernet IEEE 802.11b/g/n Wireless LAN
Bluetooth
Bluetooth 4.1 Bluetooth Low Energy (BLE)
Card Slot
Micro SD card slot
Strage
Dependent on the micro SD card, (8GB reserved for OS)
AC adapter
AC100-240V、50/60Hz , DC 7.5V 3A
Size
32 x 89 x115mm, 1.26 x 3.50 x 4.53inch (Excluding protrusions)
Weight
420 g, 0.93 lb (Not including AC adapters)
Operating Temperature
0°C~40°C, 32°F~104°F (Non-condensed)
Operating Humidity
10%~80%
LED
General-purpose LED (Program controllable)
Original test
(Guaranteed performance value)
Lightning surge

(Noise Laboratory Co., Ltd. LSS-15AX-C3)

±2kV for AC power supply lines
ESD

(Noise Laboratory Co., Ltd. ESS-2000 & TC-815R)

Contact discharge : 8KV/Air discharge : 15kV
Operating temperature

(ESPEC CORP. PL-4KP)

0 to 40°C
Explanation of each part
LAN Cable socket
USB plug-in socket
HDMI plug-in socket
AC adapter plug-in socket
Running application LED (Orange)
OS activation LED(Green)
Operation mode selector switch
Power switch
FAQ
About delivery
Lead-time for shipment

Less than 100 set : 7days
Over 100 sets : 60 days
Over 500 sets : 90 days

Shipping method

Express mail service,Courier service,Other method is available on request

Deliverable

BH3 unit (Includes Raspberry Pi) and AC adapter

Demonstration unit

We will offer a demo unit at a special price

OEM,customized service

Available on request.
OEM and customization are possible depending on the conditions such as quantity and specifications.
For example, we can supply BH3 without Raspberry Pi. Please feel free to contact us for OEM and customization.
Product warranty
Warranty period

The warranty period is one year from the Invoice date. (Except for Raspberry Pi).
An extended warranty period is available upon request.
We will quote separately regarding the requested warranty period.

Repair

We will repair or replace it free of charge during the warranty period.
However, you will be responsible for the return shipping charges within the warranty period, and we will be responsible for the shipping charges for repaired or replaced products.
The repair period is approximately 5 days.

Repair response period

The repair response period depends on the product life of the Raspberry Pi.
Therefore, the repair response period is not set.
About OS and functions
Is it possible to install the functions for the BH series on the OS that I set up myself?

It is possible. The operation of RASPBIAN 3.18 or later OS has been confirmed. RTC / Watch Dock Timer / Shutdown settings can be installed.

Do you disclose the source code of OS for BH series?

We disclose the source code and description of the functions added to Raspbian. You can modify it if necessary.

Are there any restrictions on the applications and settings to install?

There are no particular restrictions.

BH3 uses a metal case. Will the signal strength of WiFi and BLE (Bluetooth Low Energy) be weaker than the case made of plastic resin? Are there any measures to be taken when the signal strength is weakened with a metal case?

Since BH3 is a metal case, it has been confirmed by actual measurement that the radio field intensity is attenuated by about 20%. In particular, we believe that BLE has an impact on its use at a distance. In that case, please use an external BLE dongle. It is difficult to define the distance unconditionally, but in our experience it is practical unless the distance is far or space intricate.

Please tell us about the test conditions for the environmental test of BH3.

The test conditions are "24 hours operation in a constant temperature bath at 0 degrees, 24 hours operation in a constant temperature bath at 50 degrees". A test that operates for 24 hours with temperature changes. 1) From 25 degrees to 0 degrees over 30 minutes and keep 0 degrees for 6 hours 2) From 0 degrees to 5 hours to 50 degrees and keep 50 degrees for 6 hours 3) From 50 degrees to 30 minutes to 25 degrees keep 25 degree for 6 hours

Can BH3 be customized for PoE power supply?

Unfortunately, customization is not possible.
About power supply and voltage
If it is shut down due to a power failure, is it possible to automatically start BH3 when the power is restored?

It is possible. Automatically starts when the power is restored

I have a question about the operating time of 30 seconds when the power is turned off. What is the power consumption of the Raspberry Pi?

The internal backup capacity is approximately 4200mAsec (actual measurement). In our shutdown process, the power supply to USB is stopped immediately after the power interruption. In this state, the Raspberry Pi consumes about 200mA or less, so it is assumed that it will operate for about 30 seconds.

Please tell us about the life of the electric double layer capacitor mounted on BH2 / BH3.
About other hardware
What is the assigned GPIO number?

GPIO2, 3, 17, 18, 22, 23, 24, 25, 27 have been assigned.

Is it waterproof or dustproof?

It is not waterproof or dustproof.
Document
Compliance & Safety
■Test Report
■Certificate
■Declaration of Conformity